OTHER BOOKS BY JOHN BARLOW


ISLANDERS is a YA novel about a boy's search for his father.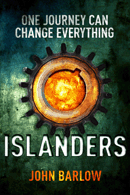 Ben Brewer was born during a war in which his father was lost, presumed dead. But when a message arrives to say that his dad is still alive, Ben sets out to find him.

The journey takes him and a group of friends back to the Mainland, now devestated by germ warefare and ecological destruction. But Ben believes his dad is still there, and wants to know why he never came back from the war...






***




EVERYTHING BUT THE SQUEAL is a travelogue, a food book, and a memoir about Galicia in Northern Spain.




'Everything But The Squeal' makes you want to get on the next flight to Santiago de Compestella and find that restaurant to eat Cocido.

Rick Stein

Beginning in January with a gargantuan serving of pork stew, and culminating with a traditional pig slaughter (big knife, no anesthetic) in Decemberl,

Everything but the Squeal

is one man's gastronomic love affair with that most unassuming of animals, the pig. It is also a fascinating exploration of a virtually unknown region of 'green' Spain.

John Barlow, self-confessed glutton, lives in Galicia, the misty-green northwest corner of Spain. It is one of the most meat-loving places on earth, and where the pig is always prominent on the menu.

This gets Barlow thinking about the nature of our relationship with food: what's delicious, what's not, and what sort of obligation we have to the animals we eat. Over the course of one glorious, bilious year, Barlow vows to eat everything the pig has to offer: everything but the squeal. And to make matters worse on a meat-quest like this, he's married to a vegetarian.

In his travels, Barlow takes part in a thousand-year-old ant-throwing festival, stops off for pig's trotters at a hippy commune, makes pig-bladder puddings for carnival, and eats a beautifully spiced pancreas... All washed down with plenty of the local wine.

In the tradition of Calvin Trillin and Anthony Bourdain,

Everything but the Squeal

is an adventure in extreme eating, a hilariously quirky travel book, and a perceptive look at how what we eat makes us who we are.



EVERYTHING BUT THE SQUEAL

was a finalist at the Cordon Bleu World Food Awards, 2010.

First published by Farrar, Strauss and Giroux in the US.



***





WHAT EVER HAPPENED TO JERRY PICCO?





Farewell My Lovely

meets

Californication

.

Meet Jack Storm PhD, disgraced ex-college professor and unlicensed PI. Since getting turfed out of Berkeley for violent misconduct, he's turned his brains and his 250-pound frame to solving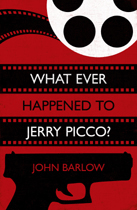 crimes. Working out of Los Angeles (and the trunk of his 20 year-old Mercedes Benz), Jack has finally found his true place in life: the gutter.

When Jerry Picco goes missing, Jack is called in to help. Picco is the world's greatest 'erotic actor', and his disappearance has come at a difficult time for the diminutive porn star. He's left a heap of debt, a career in nosedive, and a screen partner with plenty reasons to want him gone.

Jack has his own reasons for trying to find him. Apart from anything else, he's one of Jerry's biggest fans. The only clues he's got: a Polaroid of seven little men in the woods, and some story about a princess. For fans of Carl Hiaasen and Janet Evanovich,

What Ever Happened to Jerry Picco?

is a romp of a noir with a literary twist.




***





INTOXICATED

: A Novel of Money, Madness, and the Invention of the World's Favorite Soft Drink


Set in 1869, the novel tells the story of a family of Yorkshire industrialists whose lives are turned upside down by the arrival of Rodrigo Vermilion, a foul-smelling hunchback midget dressed in rags.

INTOXICATED

is a booze-swilling, cocaine-soaked novel of excess and madness in rural Yorkshire, set amid the great commercial developments of the late nineteenth century. It's a novel about drinking, about invention and re-invention, about home, language... and soft drinks.



INTOXICATED

was named as a BookSense Notable Title and an Editor's Choice at the Historical Novel Society

Read an extract, or see a 45-second video version of the novel.
Deutsch (lesen und extrahiernen)

First published by William Morrow/HarperCollins in the US.



***



EATING MAMMALS is a collection of three novellas, all of them about mammals
and all based (loosely) on fact.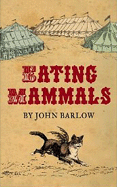 First is a story about a man who eats furniture for a living. Next, a tale about a winged cat named Thomas-Bessie. Finally, a romance between two pie makers, set in the Yorkshire village of Gomersal.

Read an extract here.

The novellas:
'Eating Mammals' (previously published in the

Paris Review

, and winner of the Discovery/Plimpton Prize), 'The Possession of Thomas-Bessie', 'The Donkey Wedding at Gomersal'

First published by 4th Estate in the UK and HarperCollins in the US.